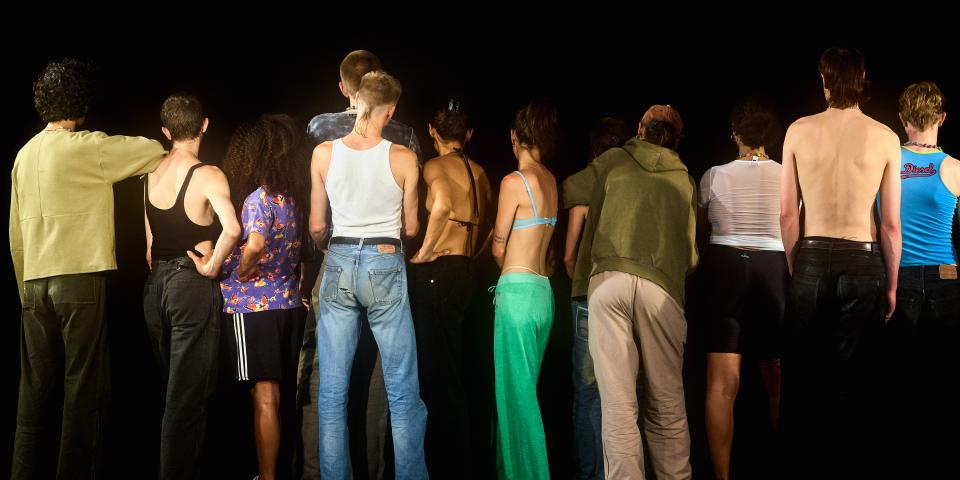 Esben Weile Kjær, detalje fra Campaign, 2020
Friday, September 4, 2020
-
Sunday, September 20, 2020
One of the hottest names on the art scene, Esben Weile Kjær, focuses on fetishized youth, hedonist club culture and nostalgia in the exhibition Campaign. Large banners with statements and photos created with fashion photographer Casper Sejersen and stylist Oliver Fussing form both its own exhibition and a hyped marketing campaign for Weile Kjær's two upcoming shows: Power Play at GL STRAND and Harcore Freedom at Copenhagen Contemporary. Campaign delves into how ideas of youth and freedom are constructs made by popular culture in order to brand and sell.
Esben Weile Kjær's works do not stop at unmasking pop culture; they also seek to become a part of pop culture in their own right. Campaign stages performers, upcoming shows and themes such as brands and icons even before they have taken place – just like campaigns for popstars and fashion companies. 
THE ARTIST
Artist Esben Weile Kjær (b. 1991) works with sculpture, video and performance and uses the history of pop culture and pop music to investigate themes using nostalgia, honesty and generational angst. In the latest years, Weile Kjær have worked with the art industry's relation to other cultural industries. His work both challenges and takes part in the experience economy and uses the aesthetics and marketing strategies of the entertainment business. As such, his work not only mimics other types of cultural performance (like those present in raves, protests, press conferences and ballets) but aims at becoming performative pop culture in itself – often through interventions in public and commercial space using props like podiums, confetti canons, fences and lasers.