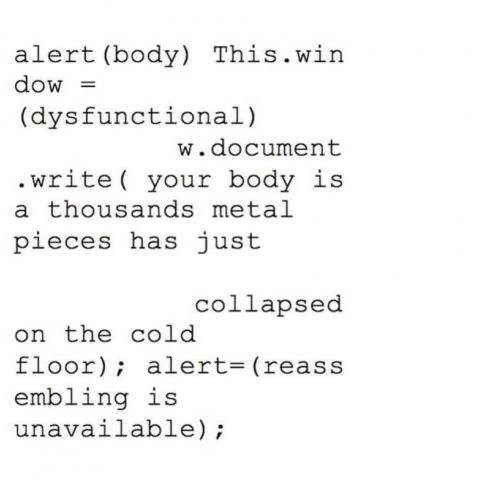 FUNCTION (MAN TAUGHT YOU)
Thursday, November 12, 2020 - 17:00
Performance og talk 
d. 12. november kl. 17.00-19.00
Computerprogrammering og spil er omdrejningspunktet for aftenes performance og talk med udgangspunkt i soloudstillingen This Is Why We Cried af Samara Sallam.
Talk:
Function (man taught you)
Kurator på udstillingen This Is Why We Cried Nanna Balslev Strøjer taler med vidensplatformen Et_ting om teknologiens feministiske potentialer, biases og hvordan kodning kan bruges som aktivistisk værktøj. Sætningen function (man taught you) er fra et kodet digt Samara Sallam har skrevet til fremtidens robotter. 
Performance:
Allies and prize will make dry eyes – the game
Et interaktivt boldspil lavet specifikt til udstillingen This is why we cried af robotten Sophia Hanson. Spillet er et kort og humoristisk spil for museets gæster, personale og kunstnere. Med Sophia som game master drejer spillet sig om dilemmaer omkring den menneskelige empati. Kunstneren Sara Arenfeldt vil sætte spillet i gang og assisterer game masteren undervejs.
Coronarestriktioner:
Museet for Samtidskunst laver siddepladser i udstillingen, hvor gæster kan sidde med god afstand. Alle gæster skal bære mundbind på museet, men du må tage det, mens du sidder ned.
Arrangementet er gratis.